Research Projects
"Reserve your right to think, for even to think wrongly is better than not to think at all." – Hypatia
Long-Deep Eclipses in ZTF & Beyond
---
Recently I have been very excited about the prospect of deep diving in the world of slow-time domain astronomy. More specifically, I'm interested in what can we learn about stellar evolution from the lens of slowly evolving stellar variability. The study of century-long photometric variability has already shown to be fruitful of exotic and extreme stellar binaries that challenge our understanding. I'm passionate on compiling both modern and archival TD photometry on the discovery and characterization of deep-long stellar variability. This project is currently being mentored by my advisor Professor James Davenport.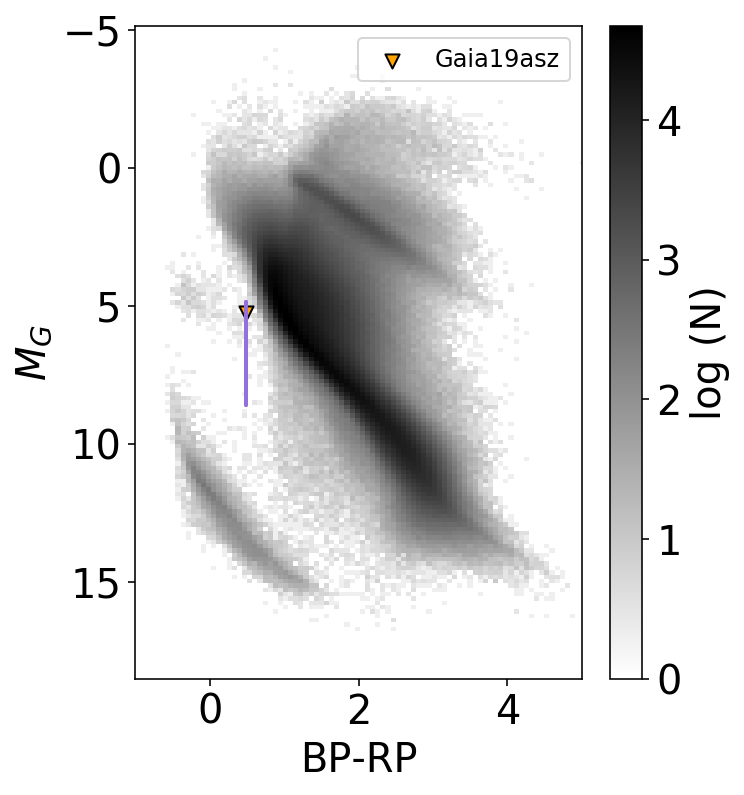 Arcavi et al. 2017). However, due to their large spread in luminosity and limited supernovae spectroscopic follow-up resources, it becomes challenging to constraint the faint end of the luminosity function.
Controlled experiments such as the ZTF CLU (De et al.2020) make it possible to answer this question by, specifically, focusing on the nearby universe and achieving spectroscopic completeness up to r~20 mag. In my most recent paper (link coming soon!), we present the largest spectroscopically complete sample of type II supernovae to date. The analysis utilizes a flexible parametric lightcurve model to model lightcurves via a Bayesian approach. We provide a detailed luminosity function in the ZTF-gri bands, analyze the lightcurve characteristics, and provide a useful discussion on future type II luminosity functions and estimates of rates.
(Stay tuned for the details!)
Laporte et al. 2018, and show the dynamic interaction between the a Milky-Way like galaxy interacting with the Sagittarius dwarf satellite galaxy.